Canadian Maritimes & Newfoundland | Linblad Expeditions | National Geographic Explorer
Words cannot describe my excitement upon hearing that I was the grand prize winner of the "#ExperienceCanadaContest" on Instagram sponsored by NatGeoTravel and ExploreCanada. I am still stunned and grateful for this honor which included an amazing trip to the Canadian Maritimes and Newfoundland with Linblad Expeditions aboard the National Geographic Explorer. This ship is considered a state-of-art expedition ship. It's classified as a fully stabilized ice class vessel.
On September 14, my husband and I headed to St. Johns, Newfoundland. We boarded the National Geographic Explorer around 4 pm and within a couple hours, pulled away from the dock and started our adventure. From the get go I could tell this was going to be a special trip. The one thing that stood out at all the places we visited were the people. The locals were welcoming, proud of their heritage and enthusiastic about sharing the colorful history of the area.
September 15 - St. Pierre, France
In St. Pierre, we were greeted by these gentlemen playing French music. As I look at this image several months later I now see the donation basket on the speakers - whoops missed it then. These guys were very entertaining and played music all day long.
St Pierre, a self governing territory of France, has a colorful history which includes fishing, smuggling and an invasion by the Brits during the American Revolutionary War. The fishing industry has declined significantly and the island is heavily subsidized by France but hopes are that tourism will boost the economy.
We took a zodiac to the island of Ile aux Marins once a thriving fishing community. It's last residents left in the 1960's but with help from local governments and groups, it now showcases the fishing culture of days gone by.
A group of passengers make their way through the choppy water back to the St. Pierre from Ile aux Marins.
September 16 - Louisbourg & Baddeck, Cape Breton Island, Nova Scotia, Canada
Louisbourg Fortress is a Canadian National Historic site. It was settled in 1713 by the French. By the mid 1740's it was the most extensive European fortification in North America. The fortress was partially reconstructed in the 1961. Great pains were taken to ensure it's authenticity. Today guided tours and demonstrations are given by costumed guides. You are truly transported in time.
Our guide stands in front of the King's Bastion and describes life at the fort in the 1700's.
Musket demonstration - loading and firing
The soil was not ideal but edible plants, such as cabbage, turnips, carrots and herbs, were grown in raised beds that were layed out in the same style as the beautiful gardens of France.
A soldier's uniform and weapons (left). Two servants peer out of a doorway of their master's house (right).
Yellow gate at Louisbourg Fortress, Cape Breton Island, Nova Scotia, Canada
September 17 - Iles de la Madeleine, Quebec, Canada
Iles de la Madeleine is a chain of islands, in the Gulf of Saint Lawrence, known for beaches, sandstone cliffs and rolling hills. We enjoyed the scenery during our hike of the area.
Our hike on the island took us through the rolling hills of this farm.
These red sandstone cliffs are in a state of steady erosion.
September 18 - Gros Morne National Park, Newfoundland, Canada
Gross Morne National Park, a UNESCO World Heritage site, is known for it's cliffs, Fjords and beautiful scenery. The rock formations are unique in that they show exposed oceanic crust and mantle rock . Note: UNESCO stands for
United Nations Educational, Scientific & Culteral Organization.
On this picture perfect day we hiked up Lookout Hill (a three mile hike with a 1,200 foot elevation gain). At the top we were rewarded with some of the best views in the park.
After our morning hike we opted to head back to the ship for an afternoon kayaking around the Fjord.
September 19 - L'Anse aux Meadows & St. Anthony, Newfoundland, Canada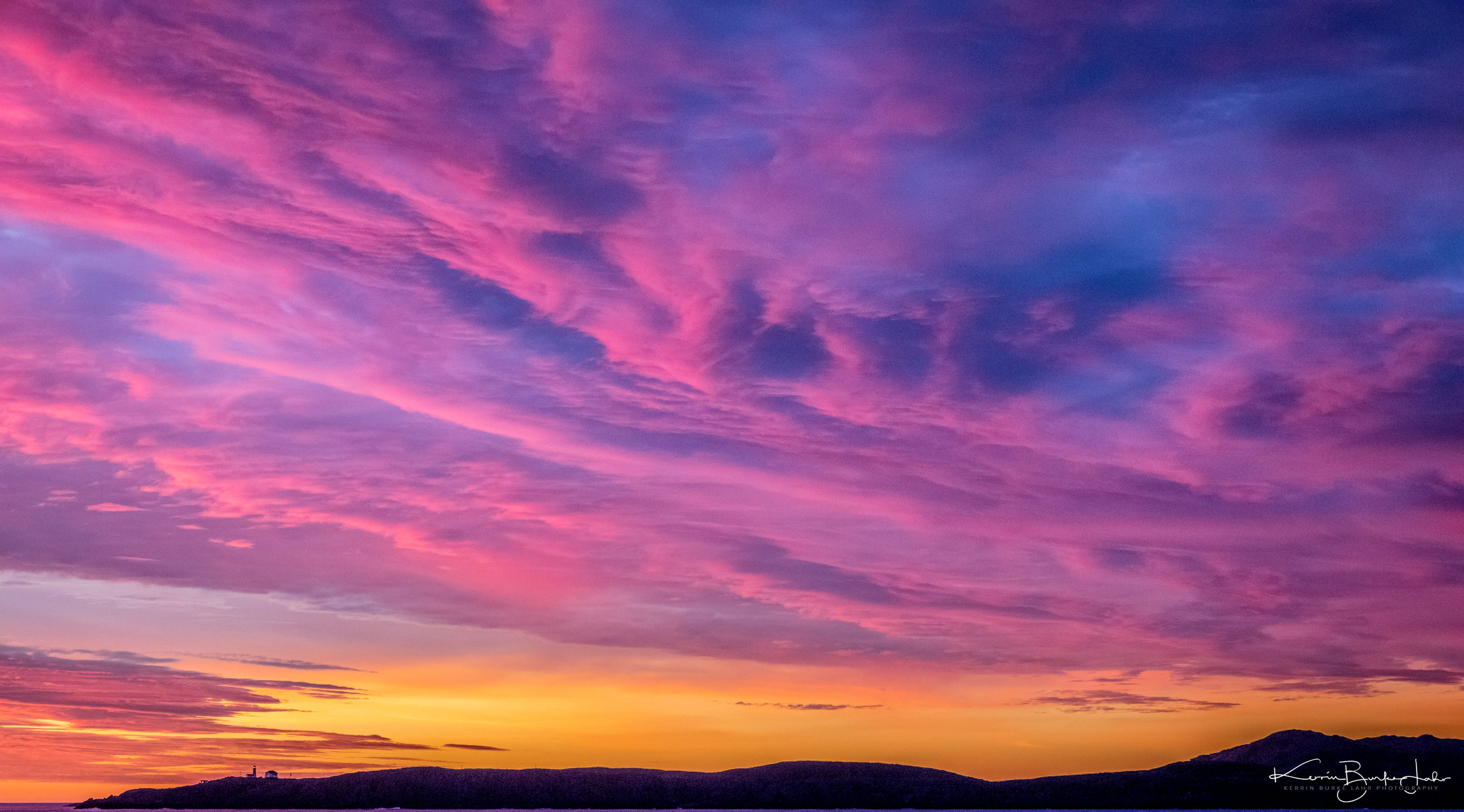 On this morning, the captain came over the loud speaker to let us know we may want to get up and out for a spectacular sunrise. He was spot on and it kept getting better and better. (Click the arrow on the right side of the images to see more.)
Our visit to L'Anse aux Meadows (a UNESCO World Heritage site) was one of my favorites. In 1960, the remains of a Norse or Viking settlement were discovered on this site. Since that time they have recreated an authentic Viking village next to the site.
The actors portraying the life of the Vikings were terrific! It was interesting to see how their dwellings were constructed, the tools/weapons they used and daily life. (Click the arrow on the right side of the images to see more)
September 20- Twillingate, Newfoundland, Canada
Twillingate is located on Twillingate Island in Notre Dame Bay off the northeast coast of Newfoundland. It is know for small fishing villages and a rugged coast line. Nicknamed the Iceberg Capital of the World - each year, from May to July, icebergs that have broken off the icepack of Baffin Island, Greenland float by and create an awe inspiring site.
Colorful rock beaches of Twillingate.
My husband's favorite part of the trip was a visit to the Prime Berth Fishing Heritage Center. It was created by David Boyd as a tribute to his fisher forefathers. They have many fishing artifacts (large and small) but the highlight was a fish splitting demonstration (first two images above). Dave split that fish with lightning speed. It was like a magic trick - his hands were quicker than our eyes. (Click the arrow on the right side of the images to see more)
On the morning of September 21, we returned to the dock in St. Johns with wonderful memories of a great trip. This was so different from a typical cruise. It was an expedition; an adventure. The ship held 148 guests. The rooms were spacious and deluxe. The expedition staff was highly educated (most with advanced degrees) and passionate about their areas of expertise. The crew was friendly and prided themselves in knowing your name. The food was exceptional. In addition, we were lucky enough to receive invitations to two private dinners in the Chart room. Each with a special host and 3 other couples. The first was hosted by Robert Siegel and his wife. Robert is the cohost of NPR's All Things Considered. They were both bright, personable and interesting people. The second was hosted by ship Captain Oliver Kruess who regaled us with stories of his home in the Frisian Islands in northern Germany and life on the seas. I feel very lucky to have received this special experience!